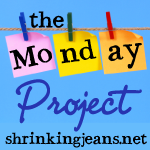 So its time for another Monday Project at the Sisterhood... Here are the instructions we were given...

This week, we're giving you a license to talk some wonderful talk about yourselves. When we link up on Friday, we want you to list 5 reasons why you totally ROCK.

Any reasons whatsoever. There's got to be at least five. And you know what? If you want to list more, go ahead! But give yourself some mad props this week and talk about why you are awesome. We want to know and we want to give you some mad props too.

1. I followed my passion and am living my higher calling in this life!

I became a Pediatric Oncology (Childhood Cancer) Nurse eleven years ago and while the dark days are really rough, I spend the majority of my days helping cure children and watching the majority of them go on to live amazing lives.

2. I am proud to be a working mom!

Contrary to what many of my friends chose, I CHOSE to have a career and raise my children and I have learned to embrace the fact that working has made me an even better mom.

3. I am BULLHEADED, DETERMINED and very COMPETITIVE!

These character traits have lead me to most if not all of the victories in my life and I know will serve me well as I train for my first half marathon and as I walk forward on my journey to my skinny jeans.

4. I am a giver!

While I am still learning to give to myself, I spend the majority of my time giving to others and I LOVE the way it makes me feel.

5. I am in my thirties (35 to be exact) and am PROUD of my age!

I feel like I am in my prime and am really coming into my own and am more and more comfortable in my own skin and make less and less apologies for who I am.

Well, there you have it - That wasn't easy... But is pretty wonderful to look at and let sink in...