Week 2 - Here I am!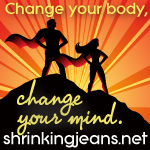 This week was my first attempt at easing back into the routine and getting back to what I know. I planned the dinners for the week using the Biggest Loser 30 Day Jumpstart and did all of the shopping ahead of time. Outside of a few glitches, we did really well at dinner time. I have not gotten back fully to exercising - largely because of having a cold, but that will change in the week ahead as I feel better.
I am very happy to report:
Last week weight - 212.4
This week weight - 211.2
-1.2lb
Overall drop - 1.2lb
As my husband pointed out... "if you do that every week for the next year, you will be down more than 50lbs!" While, I sit here anxiously hoping for it to come off faster, he has a very good point that reinforces my challenge to myself to celebrate ANY loss no matter how large or small.
I do have to say, though, after watching The Biggest Loser last night, 20lbs in a week would be mighty nice!

Click the icon above and join me at the Sisterhood for the Shrinking Jeans - Rethink your shrink challenge open to all!