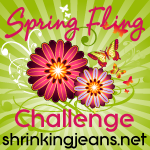 This has been a GREAT week... I am transforming into the woman I have dreamed of becoming!
First with the good news... I am cleared to run/walk again! On Sunday I walked 3.38miles and last night I ran/walked 2.66! It felt so great to run again (very slowly, but with the sweat dripping and the endorphins flying!)
Second, I have to introduce you to my theme song... Ever since I heard it for the first time, I identified with it and was motivated by it. I put it on my iPod and wouldn't you know it... it comes on right when I need to hear it during my runs/workouts, EVERY TIME... and you better believe it will be the song that I listen to as I cross the finish line of my first half marathon! Here are the lyrics and a link to hear it...
It's Your Life - Francesca Battistelli
This is the moment
Its on the line
Which way you gonna fall?
In the middle
Between wrong and right.
But you know after all...
Chorus
It's your life whatcha gonna do?
The world is watching you.
Everyday the choices you make
say what you are and who your heart beats for.
It's an open door.
It's your life.
Are you, who you
always said you would be?
With a sinking feeling in your chest.
Always waiting for someone else to fix you.
Tell me when did you forget?
Chorus
Live the way that you believe.
This is your opportunity
to let your life
be one that lights
the way.
Chorus x2
It's your life...
It's your life...

So there you have it...

My theme song! Pretty profound!

Eating went well again this week. I can't believe how well this supplement is working for me. I continue to average around 1200-1300 calories, but I am NOT hungry AND the cravings have subsided enough that when I would ordinarily emotionally/stress eat, I have the control to deal with the moment without food. Yea! This is the first time I can say that since starting medication almost four years ago... and it feels like FREEDOM!
moved up to fourth place... Wonder what this week will hold?
Okay, so here are the stats:
Starting Weight
200 lbs
8 lbs
Sooo Close! I thought this might be the week to dip below 200, but I guess I get one more week to reminisce, being that once I say goodbye, I am NEVER saying hello again!