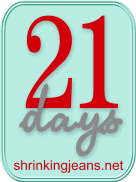 It is time for a new challenge at the Sisterhood! I loved the team challenge we just finished, but I always love to find out what the new challenge is!
So here it is... Here are our instructions...
So for the next 3 weeks, we'll be asking each of you to choose 1-3 new habits that you would like to form. You will still weigh-in on Wednesdays but you will also report how you are doing with your new habits, or forming your new habits.
By incorporating one or more new habits into your daily life, it should affect your weight, and we want to know how much. We're nosy like that. And yes, we are encouraging you to try and form as many new habits as you can. It's good for you and your body!

There are so many things I could choose to do for 21 days... I have been on such a journey to create the life I love and the person I love. I have created many new habits in the past few months. A couple of things that seem to be the bane of my existence are tracking my foods and getting enough water every day. The irony is that when I do keep up with both, I am more successful in releasing weight. Historically, I keep up with both for a week or so... not enough time to keep it going long-term.

So here it is...


I am committed to two things for the next 21 days...

1. Drinking 96 oz water per day
2. Track my food/drink daily on www.dailyplate.com

We will see how it goes... I look forward to conquering two hurdles that will be so beneficial to my health and overall well-being!