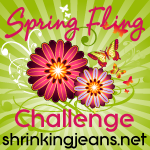 This has been a NEW week... with new hope, courage and a bit of frustration!
Last Wednesday I made a visit to my dear friend and sports chiropractor Steve to evaluate my leg and establish a plan for recovery and return to training. Steve is a marathon runner himself and very insightful about training and nutrition. Steve and I have gone back and forth on the issue of my weight over the years and at my appointment several days prior he had mentioned that I should take the next month and really "attack my diet", now that I was having so much success in training for my race. It was mentioned in passing and I didn't give it a ton of serious thought until I landed back there with more than a muscle strain, but likely a stress fracture on my right leg.

WOW... That is a big deal... It hit me like a Mack Truck that my weight plays a huge role in my being more suseptible to injury. 200 pounds is a lot to carry around on a 5'4" medium size frame.

So, I asked Steve the question...

You have told me what to do for my leg (ice, ultrasound, rest, non-impact exercise), so what do I need to do for my diet? (at that point there was no turning back...)
Here was his answer (after discussing what I was currently doing):
Take a supplement to help curb appetite and cravings
Cut calories down to around 1000-1200/day
No refined sugar - fruit as my sugar source
No carbs in the evening
Focus on small portions throughout the day - Goal to never feel hungry
Pfew... Pretty drastic huh... The wild thing for me was that I "got it" and because I have had so many successes lately proving to myself that I am strong and able to conquer "little mountains" in my life. I felt so triumphant when I made it 6 miles and then 7.5! 7.5 miles... REALLY? Tiffany Zook - 7.5miles!?!?! On foot? Running for any portion?
YES I DID and WHY WOULDN'T I BE ABLE TO CONQUER THIS TOO!
So here I am, today is day 7 of my new "plan" and I feel great physically. The supplement has helped me tremendously and I have maintained 1000-1300 calories daily. CRAZY!
The frustration has come in being injured and the reality hitting me in the last couple of days that it will take some time to heal.... TIME - A bit difficult for those of us that are type-A and impatient. I have just been so scared of losing major ground and truthfully, I have just really become hooked to training and am MISS it! Who'd have thunk?
maintained a top 6 finish, however we all felt the effects of Easter - every one of us either maintained or gained... We will see what this week has brought forth!
Okay, so here are the stats:
Starting Weight
201.4 lbs
6.6 lbs
WOOOOO HOOOO! It felt so good to write those numbers!