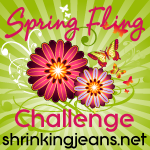 This has been an EVENTFUL, WONDERFUL and CRAZY week!
So work is settling down a bit, but this week I encountered another friend and foe...

EASTER

Easter is my favorite holiday and you would think that I would learn by now that its not a good idea to put my favorite candy and chocolate in my kids easter baskets!

Why?

Because I STEAL!!!

Needless to say... I have eaten a few chocolate robin eggs, jelly beans and more chocolate eggs. I also had a very nice Easter dinner / birthday celebration for my mom and brother, complete with ham and scalloped potatoes. On the bright side, I did watch portions much better than usual and didn't over stuff myself... Yea Me! (note the sarcasm...)


The second bump this week is that I haven't been able to run since last Thursday. I have a little injury that MAY or MAY NOT be a stress fracture. I will know more later today and should have a plan for the coming weeks... One thing is for sure, I have NO PLANS to not complete my Half Marathon - Hopefully by running and walking, but if I have to walk every single step, I WILL FINISH!

I have been through a ton of emotion over this and yesterday, when I spoke with my Sports Chiropractor and good friend, he gave me an interesting perspective... He said, "don't be discouraged, think of this as a badge of honor... You have committed to something that most won't even attempt and you worked so hard you just broke... but we will fix you and you will be even stronger" WOW! First of all, thank God for great friends and encouragers, but second, what a perspective! So I am choosing to walk forward with this perspective, wear my badge of honor and do what it takes to heal and move forward STRONGER!
maintained a top 5 finish! We will see what this week has brought forth!
Okay, so here are the stats:
Starting Weight
204 lbs
4 lbs
*could have been worse... thankful for only 0.8...*