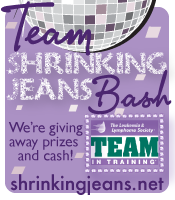 For the next 2 weeks over at the
Sisterhood
, we are having a
Team Shrinking Jeans Bash
! What is this Bash I speak of, you might be asking? It's a HUGE party with door prizes and an awesome Grand Prize of $400 cash! Yes, cash!
What is Team Shrinking Jeans anyway?
Well, a group of 16 Sisters and one Brother are training to run the San Diego Rock N Roll 1/2 Marathon through the Leukemia & Lymphoma Society's (LLS) Team in Training Program (TNT). Through TNT, Team Shrinking Jeans will be training for the race AND raising $48,900 for LLS. Isn't that amazing?
You can read more about our amazing team
here
, and find out why each of us is doing this
here
.
How can you join the Bash?
Simple!
Donate
to Team Shrinking Jeans through our secure online
team fundraising page
. For every $5 you donate, you'll be entered to win one of over 30 fabulous door prizes. If you donate $25, not only will you get 5 chances to win door prizes, but you'll also be entered to win the granddaddy of all prizes: CASH!
Did you know?
Every 4 minutes one person is diagnosed with a blood cancer.
An estimated 139,860 people in the United States will be diagnosed with leukemia, lymphoma or myeloma in 2009. New cases of leukemia, Hodgkin and non-Hodgkin lymphoma and myeloma account for 9.5 percent of the 1,479,350 new cancer cases diagnosed in the United States this year*.
Overall incidence rates per 100,000 population for leukemia, lymphoma and myeloma are almost identical for data reported in 2008 and 2009 [(leukemia 12.2, 2009 vs.12.3, 2008); (NHL, 19.5, each year); (Hodgkin lymphoma, 2.8, each year); (myeloma, 5.6, each year)].
Leukemia, lymphoma and myeloma will cause the deaths of an estimated 53,240 people in the United States this year. These blood cancers will account for nearly 9.5 percent of the deaths from cancer in 2009 based on the 562,340 total cancer-related deaths.
Every ten minutes, someone dies from a blood cancer. This statistic represents nearly 146 people each day, or more than six people every hour. Leukemia causes more deaths than any other cancer among children and young adults under the age of 20. In general, the likelihood of dying from most types of leukemia, lymphoma or myeloma decreased from 1996 to 2005 (the most recent data available).
*Facts and statistics from
Leukemia, Lymphoma, Myeloma Facts 2009-2010
, June 2009.
Those are some pretty eye-opening statistics, huh?
So head on over and join in the
Bash
! Check out the fabulous prizes,
click on over and donate
, and be sure to check in everyday for Happy Hour!