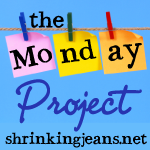 Its time for another Monday Project!
Here were our instructions...
"What would it be like if I just started this journey two years from now?"
Hmmmm... I am not sure I really want to think about two years from now...
These things I know for sure:
I would likely weigh more than I do now
I would be two years worth more unhappy
I would have even more sore joints and feet!
I would believe my own lies and rationalizations on a much deeper level
My boys would have difficulty believing anything I say.
I have lived the majority of my life dealing with my weight and learning about myself and what is really behind my eating. I have "patched the symptoms" with quick fix dieting, but I have also had incredible opportunities to learn my triggers, my emotional connections to food, my habits. My children are on to my rationalizations and more importantly I am on to my rationalizations! I am at a pivotal time in my life.... NOW is MY time, not tomorrow and certainly NOT two years from now!