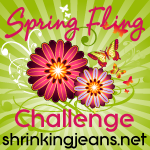 Overall, this was a good week.
On the exercise front, I continued my "shredding" except for the days that I am running. That Jillian can really kick some tail... I love when she says that the pain is "fear leaving the body" - That is my new motto and let me tell you, I have released a lot of fear! I also have been continuing with my run/walk training and I had a HUGE milestone this week....
I ran/walked FIVE MILES!!!!
That is a first for me and the farthest I have gone yet! AND, it felt GREAT!!!!
I am more and more amazed by what I am capable of!
Now for the food front... I am still having a difficult time. The stress is still there, but is a bit different. I am very close to making a decision and am MUCH more at peace.
Thank you, thank you everyone who has prayed with me for clarity - the prayers have really helped and I feel such peace...
That said, I continue to spend my days in a very stressful environment and it is like impulse for me to grab the M&M's out of the bowl five feet from me in the nurses station or to make a "comfort food" meal at home (like chicken n dumplings) or to snack at night. It all still has a hold on me!
With all of this exercise, I can only imagine what I could release from my body and what I could transform my body into if I found more discipline with eating....
Soooooo, here is my challenge for myself this week...
I will document my calories and everything I put into my mouth on www.dailyplate.com and will report daily to my fabulous
TEAM INCREDIBLE
over at
the Hood
Okay, so here are the stats:
Starting Weight
208 lbs
Today's Weight
206.8 lbs
Change from last week
0 lbs
Total Difference
1.2lbs