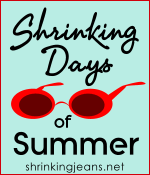 It has been a good week! The MOST exciting thing about this past week was that it was my LAST week of training for the Half Marathon!!!! It has been such a journey, and I am READY and SOOO EXCITED to get to San Diego and experience all that goes along with being a member of Team in Training. I think I am looking most forward to the after party! That will mean that I have crossed the finish line and for the first time in months will be able to really let my hair down and party! WITH all of the crazy ladies from Team Shrinking Jeans no less!
On the exercise front, my training has continued and I conquered a major fear this weekend. I had my last long run (8 miles) that coincided with being in a higher altitude (5200ft) and not only finished it but really tore it apart! I was so nervous about the altitude because the first time I tried to run up there I felt like I was going to die and that was barely 4 miles. SOOO, because I am into conquering my fears and all that limits me, I took it on and it felt so amazing! Five of my miles were my fastest yet... my legs didn't hurt and neither did my lungs!
On the eating front, it was a mediocre week filled with a holiday weekend, the beginning of PMS and being told by my coach that I am supposed to eat some more carbs this week... Never tell a recovering carb addict to eat more... I have managed to maintain a decent balance and not go overboard, but I did say yes to a hot dog at the pool on Sunday and Ice Cream with Noah on Monday. Today, the stress at work was such that I wanted to run to the chocolate, but instead grabbed my Chocolate Brownie Luna Bar - got through the craving and fed it with something good for me. I truly have decided that the week of my biggest physical accomplishment deserves a bit of a pass - as long as I focus on quality carbs, hydrating my body and watching my portions. It has been interesting seeking the balance between fueling my body for exercise like this, and not going overboard.
So, here are my numbers...
215 lbs
Starting Weight for this Challenge
196.6
196 lbs
-0.6 lb
Difference for the challenge
0.6 lb