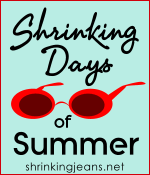 It has been awhile since I have been here!
I have been a wee bit preoccupied with long working hours, training for a half marathon with THESE amazing women and just overall survival!
Life has been pretty darn exciting these days... I am discovering new and amazing things about myself on an almost daily basis! I am pushing my body to extremes it has never experienced. I am actually feeling ready for this half marathon and know with every fiber of my soul that I will cross that finish line and that it will be one of the most triumphant moments of my life!
I have gone from eating ice cream while watching Biggest Loser to really being able to tap into my own strength and worth to release close to twenty pounds since the first of the year. I sat tonight watching the Biggest Loser Finale absolutely mesmerized and closely in touch with the joy of conquering the issues that hold us back from being the truly best we can be... drinking my water! I can't wait to see where I am in eight weeks!
So bring on the new challenge! I am ready and I am going to continue my journey to take myself on, value myself, challenge myself and honor the incredible woman that God made me!
Here is my before picture:
215 lbs
Starting Weight for this Challenge
196.6
198 lbs