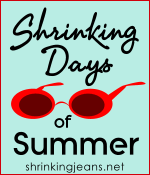 This was a week that was full of getting back into the swing of "normal life"... I am still reeling from my amazing experience with Team Shrinking Jeans in San Diego! You can read all about it HERE.
Overall, I am getting back into my eating routine... The only caveat has been sugar. I am still getting back to the business of dropping the sugar. I don't really struggle giving up starch, bread and other carbs that I have been really limiting, but there is something about sugar and sweets that is just purely addicting to me. This go around it has been ice cream - maybe because we ate quite of bit of it on vacation and maybe because it is so flipping hot here. Regardless, it has to go and as of Monday, it is done and over...
On the exercise front, I am still tired and still recovering from the race. I attempted to run/walk on Saturday and only made it two miles and had to walk most of it because of leg pain. I tried again yesterday and wile I was able to do more running, I still felt like my legs were huge tree stumps to lug around. General consensus has been to give myself some more time and cross train in the meantime... Great advise, I just am impatient and itching to run! Plan to start 30 Shred today, now that I am not in the later weeks of training for a run.
So, here are my numbers... Definitely a loss... getting back to baseline before the race. Thilled for the loss - next week I will definitely be in the negative for the challenge!
215 lbs
Starting Weight for this Challenge
196.6
197.2 lbs
-2.2 lb
Difference for the challenge
+0.6 lb